Sister Sustainable – Drag Goes Green🌱
A two part series.
Part 1.
In the first of this two part series, we will discuss how fashion and drag can be more sustainable.
Drag is wasteful. Outfits are worn once, maybe twice, but anything more and you're an "outfit repeater". The shame.
Is it possible to close the loop, and make drag more sustainable?
This is Part 1 in a 2 part series on how to do drag on a budget, stay tuned for Beauty next week!
*A quick note *
All too often, those with the means to access more sustainable products look down on those who have to make do with Shein, H&M, Asos etc. A world-famous drag queen, wearing custom-made gowns every week, telling competitors that drag can be created from trash, but demonising high street purchases. A fan favourite writing in their best-selling book that a winning queen wears literal rubbish.
Mainstream drag is in danger of becoming a competition of bank accounts and debt, so where does a young queen, king, creature or thing even start…?
Queer artists have historically been at the forefront of change, challenging society's norms and questioning politics where we see the bullshit. This is a LONG list of tips, and by no means exhaustive. Do all, do some or do one, it's the small changes that make a difference.
So without further ado, here are my imperfect tips for going green, saving money, and still being fabulous!
📱 Drag Swap Groups / Social Media
Facebook is the land of plenty. Marketplace has grown over the years and is now a huge platform for second hand goods. You may find some gems amongst Brenda's failed up-cycled items!
Your favourite drag artists may also sell on Instagram from time to time, so keep an eye on stories.

Buy & Swap groups are also a fantastic resource, and there are even a few drag groups. Look them up, join, and get some bargains from your fellow artists! Close that loop, sis! You could also pick up second-hand storage for your makeup – mirrors, drawers, wardrobes or clothes rails for your outfits. All on the cheap. Get yourself some pre-loved IKEA and save a tree or two.

👗Depop & Vinted (Re-sale Sites)
If charity shops (more below) aren't an option, then resale sites like Depop & Vinted are reliable resources for quality second-hand clothing. I've bought several of my drag outfits from Vinted, bought wigs from Depop and shoes from both. I often pass time in front of the TV looking for outfits on Vinted, just window shopping.
Postage is cheap, especially if you can get delivery to a local supermarket or locker, and the range of brands is truly staggering.
Re-Liked sells items from your favourite influencers and reality stars, and for those outside Europe and the UK, there's Poshmark.
As with everything on the web, be wary of scams and remember to protect yourself from fraudsters.
Also, check out Good on You and their ratings on High Street brands to help you make more informed decisions about fast fashion and it's impacts.
🛒eBay
The tried and tested favourite – eBay. If you're a dab hand at crafting or upcycling, eBay is the place to get your rhinestones, sewing bundles or fabric offcuts from people's stashes. I love a good deal! I've also bought perfectly fine second-hand lace fronts, costumes and props.
As the official sustainable partner for Love Island, there's never been a better time to browse for bargains.
🛍️ Charity Shops/Thrifting/Op Shops
My absolute favourite Saturday morning activity – dragging my girlfriend out to the charity shops and scanning the racks for a sparkly bargain to wear on stage. There's a Scope in Brighton that sells everything for £3 or less, and my local YMCA sells everything for £1, it's heaven. And let me tell you a secret – that jumpsuit on my Serendipity cover? £3, secondhand. Fits like a dream, beautiful colour, not a mark on it. I would never have purchased directly from the label because their sustainability pledge is questionable, so this is a clever way to redirect profits from them.
Some charity shops also receive samples or deadstock from big name brands – Cancer Research has Topshop, Scope partners with ASOS & British Red Cross have Zara. So go out there and find yourself some brand new high street fashion for a fraction of the cost, AND benefit charities and the Earth as you do.
Like eBay, charity shop clothes can also be great for testing your sewing or upcycling skills, without ruining your good stuff. Curtains can make for amazing material, and bedspreads & sheets are perfect for mock-up material, and super cheap! All you need is some glue, some gems/rhinestones and you're all set to give that £5 dress a new lease of life.
🕴️ Dress & Suit Hire / Rental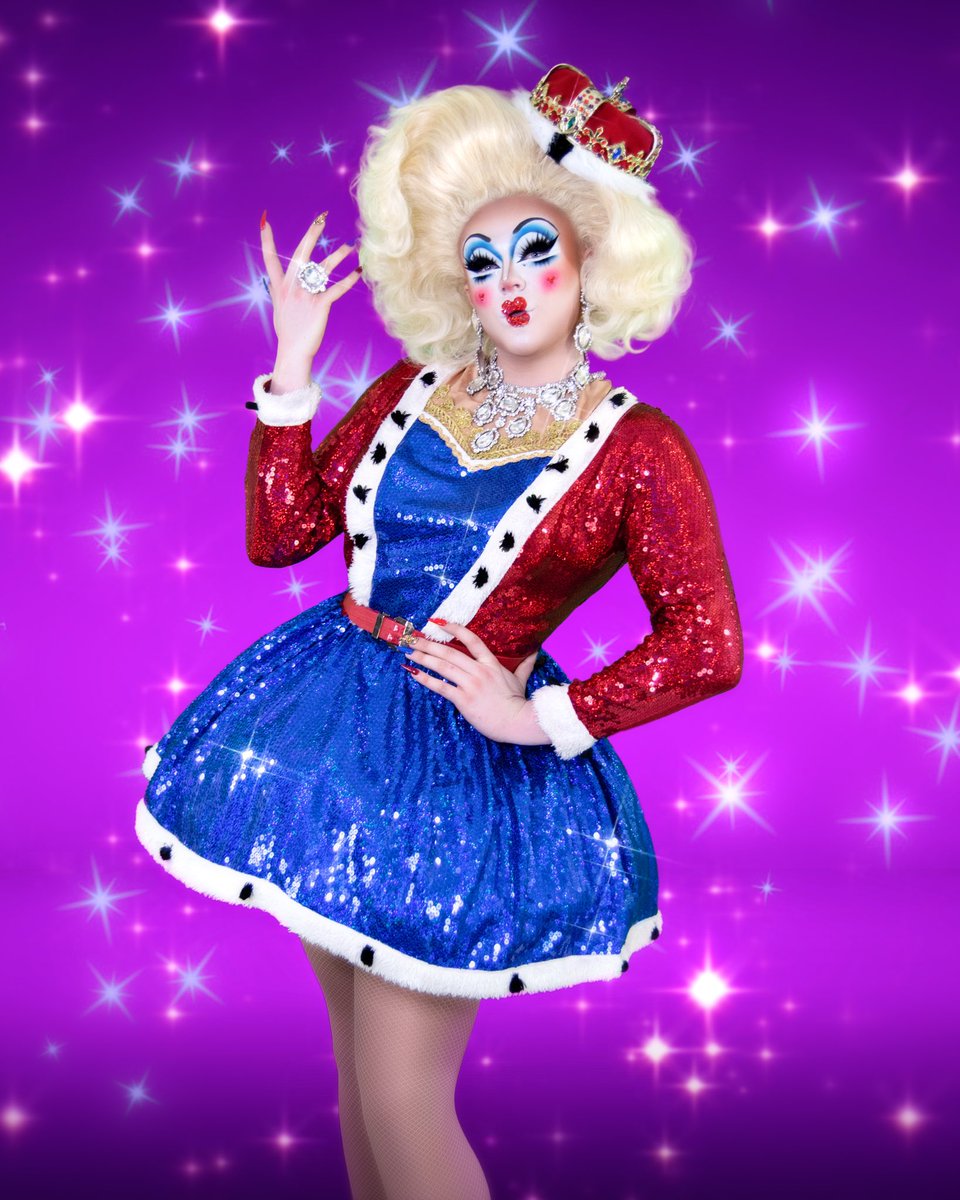 Remember Ellie Diamond's Panto Dame dress? Rented.
There are so many amazing rental sites popping up, closing the loop on fast fashion. Hurr will rent you a freshly laundered designer gown at a fraction of the retail cost.
This option is especially great for photoshoots, or one-off events, where the garments are less likely to come to harm.
You can also hire from theatre wardrobes, costume hire, bridal rental – it's such an overlooked option for outfits, but they could be a great opportunity to try out styles until you find yours.
AND LASTLY….
🚪 Shop Your Wardrobe!
Even better than all of the above – shop your wardrobe. Have you got a piece buried back there in the darkness that never sees the light of day? Something you wore once but aren't sure about? Maybe you add to it somehow, or turn it into something else?
YouTube is your go to resource for the basics in sewing and alterations, stitching nipping and tucking your way to a new item! Add sequins, glitter, add an extra layer of tulle…put a corset on top instead of underneath, layer it, wear it back to front, remix it up!
So, those are my top tips for how to do drag with an eco-mindset. In conclusion, the expectations of one of the world's wealthiest entertainers are unobtainable for most. Be sustainable, be eco-friendly but more importantly be YOU.
Stay tuned for part 2, where we take a look at cosmetics, and how "beating your face" doesn't have to beat the Planet. <3